South Africa is fortunate to have a thriving manufacturing industry in the security sector. In the access and identity management market, several companies design and manufacture their own products for sale locally and across the borders into Africa and the rest of the world. Hi-Tech Security Solutions spoke to four of our local manufacturers and asked them about the market they operate in and the scope of their operations – as well as for a glimpse into their leading products.
Starting off, we asked what our interviewees manufactured and where they were seeing the best market for their products.
Centurion System's Charl Mijnhardt says the company manufactures a diverse range of products to control the access of people and vehicles into and out of residential, commercial and industrial properties. "Our range includes gate motors for swing gates, sliding gates and garage doors, remote controls and receivers, GSM-based switches and intercoms, industrial roller-shutter operators, safety devices for automated systems, traffic barriers and roadway spikes.
"At the moment, Africa is still our biggest market, but we have seen tremendous growth in markets further afield too. There is definitely a requirement for reliable, feature-rich access automation in markets beyond Africa and because our products are designed for the harsh conditions of this continent, they cope very well in extreme climates."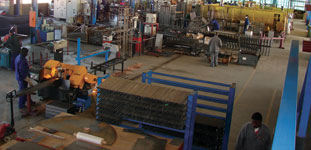 Turnstar's factory floor.
Craig Sacks, a director of Turnstar, explains that the company manufactures a full range of turnstiles, speedstiles, revolving doors, man-trap security booths, manual and automatic vehicle barriers, spike barriers and high security road blockers and bollards. The company's key markets are in South Africa, Africa, the Middle East, Pakistan and India.
Impro Technologies designs and manufactures a variety of light electronic systems, including access control, fuel management, energy management and retirement village management solutions. Impro' Barry East says the domestic market is Impro's key market and continues to be a priority. Internationally, however, Impro has invested in offices in North America to handle sales in North America, Canada and the northern part of South America, as well as offices in Amsterdam which form the base for the Eastern and Western European markets.
iPulse Systems manufactures biometric fingerprint readers and related software and hardware products. CEO Gary Chalmers says he still finds South Africa to be the best market for the company, but a growing percentage of iPulse's revenue is now coming from the broader African and US markets.
State of the market?

With the local economy struggling and businesses of all types looking beyond the country's borders for growth markets, we also asked our interviewees whether they are still seeing good growth in the local market, or whether the interest from beyond our borders was proving to be the better growth area. It's no secret that many see Africa as the next growth market, but if there is to be a growing market in South Africa, it should be the security industry given the state of the country's crime rates.
Sacks says that both the South Africa and export markets are both growing well and Turnstar has just opened its Cape Town branch to meet local demand. The company will focus on all markets for future growth.
Centurion's international markets are growing at an acceptable rate. Mijnhardt says the economic crises and recessions are leading to an increase in crimes, such as house robberies abroad, necessitating reliable security systems such as the ones that Centurion provides so the future looks good in all sectors for this company.
Impro, however, says that its export markets offer greater growth potential and if one can tap into these larger markets, the opportunity to gain market share is significant. For instance, the North American electronic access control market is expected to reach $6.0 billion by 2015, significantly larger in comparison to the South Africa market, which is speculated to reach $49.0 million in 2015. From a group turnover perspective, therefore, Impro's ability to increase the percentage of turnover is far greater, due to the fact that the sub-Saharan market is so well-established.
And iPulse also sees the international market looking positive. Chalmers says that one of the largest consumers of biometrics are the mines and the South African mines have definitely had a very poor 12 months, forcing a reduction in local expenditure and development. At the same time, the rest of Africa has seen a significant uptake. "In addition, the weak Rand has opened up opportunities for us to export, especially to the US and European markets, where their strong currencies allow us to be extremely price competitive," he explains.
The labour situation and its implications
Yet it's not only the mining industry that has had a bad year. Labour problems have been a regular news item over the past year and many companies have seen millions vanish from lost business as well as vandalism. And that's not even looking at the skills crisis the country faces.
So what are local manufacturers doing to deal with these problems? Are they looking at offshore manufacturing in part or even moving their facilities completely offshore? Or is there another solution to the labour problem?
Sacks says Turnstar is "committed to manufacturing in South Africa and the socio-economic impact that it creates. We employ over 90 people in our production facility and in South Africa, with its high levels of unemployment, we most likely feed our staff and an additional 400 dependants of our workers. Moving production offshore would have a tremendously detrimental effect on the lives of our people. We do face challenges with wage increases, but we constantly implement new systems and procedures as well as new technologies to improve efficiencies."
Mijnhardt says that Centurion has an offshore manufacturing facility for one of its production lines. "However, we have kept production local for the most part and will do so for the foreseeable future. The benefit of this is that parts are readily available and we can thus provide better support for our products.
"Having said that, our offshore facility provides us with products of the highest possible quality and also helps with our procurement of raw materials and components."
"A South African manufacturer faces South African challenges," states Impro's East. "Work stoppages are frequent due to strike action, basic industry needs are often neglected or missing, or one is at the mercy of tortoise-like Internet connections. But, the benefits of manufacturing locally are not to be dismissed.
"By keeping it local, one is able to have absolute control over the quality and lead times in production. Hence the decision to bring back a large portion of our offshore operations to get a better handle on quality and testing procedures. Over the years Impro has built-up and invested in a world-class manufacturing facility on home soil."
He adds that Impro has always actively pursued and invested in advancing technologies in automation and assembly, putting the company on a level playing field with international counterparts. "As well as investing in staff, many Impro employees have been with the company in excess of 10 years and are exceptionally capable and talented, giving Impro no reason, cost or otherwise, to take manufacturing offshore. Nevertheless, Impro is in the process of expanding manufacturing capabilities in the USA. This is as a direct result of South Africa's lack of trade agreements, which exclude Impro from a large portion of US government deals.
Sadly, although iPulse has had a long commitment to making everything in South Africa, Chalmers says the recent strikes and increased labour rates are resulting in South Africa becoming "more expensive every day". The company is investigating the opportunities of manufacturing in regions where it has a larger customer base as opposed to South Africa only.
Is local lekker everywhere?
It's all well and good to talk about entering markets beyond the country's borders, but one needs to ask what the view is of local products in markets such as Europe or the USA. South Africa does not have the influence or R&D budget of a country like China to get its products into new markets, nor does it have the reputation of quality that a country like Germany has. We asked our interviewees what the reception was overseas to the 'Made in South Africa' logo.
Fortunately, South Africa has a good reputation when it comes to security products and Turnstar's Sacks says the Made in South Africa brand often helps to seal the deal. Unfortunately, he adds that the challenge local manufacturers have to overcome is the distance to market and the relatively long shipping times. Customers in Europe can purchase from Eastern Europe and the product arrives by truck in about one week, which is a benefit for them.
Mijnhardt is also positive about the reception of Centurion's products internationally. "Our products are well respected and can compete with almost anything other international suppliers can offer."
"In general, Africa has a bad rap for being predominately made up of farming and export-based economies, but the manufacturing industry is on the rise," notes East. "In many First World countries there is still a misconception about products that come out of Africa, but domestically manufactured products are making advances and the international market is certainly open to South African security products."
He adds that the local manufacturing and security industry is slowly gaining a reputation for producing high quality, reliable products – certainly when compared to products coming out of the Far East.
"Impro is being actively sought after by certain markets that are traditionally big users of Asian products. The international market is more of a brand building exercise, but once customers engage with the Impro brand their expectations are often surpassed as products deliver on durability, reliability and features. It is very difficult to break into these markets, but, over time it is possible."
The news is also positive from iPulse. "South African products are gaining a greater acceptance in my opinion, especially in the security industry," states Chalmers. "Sadly, we are recognised as being leading experts in this field due to our crime rate, but this has led to a universal belief that we understand security better than most other markets
"In terms of convincing players, we are lucky enough that our price points are competitive enough due to the weak Rand to get them to at least give us a chance, and once we prove that our quality levels and service are much higher than our Eastern counterparts, the rest becomes logical."
So what's the verdict?
Despite some negative sentiment, negativity that is warranted in the country today, there is still much positive belief in local manufacturing, backed by the players' desire to retain their local manufacturing plants and even grow them.
Turnstar believes in a manufacturing future for South Africa. "There are major advantages to manufacturing in South Africa, including control of quality and short lead times," says Sacks. "Having our own production facility also enables us to be flexible and implement changes in a short period of time."
Mijnhardt is also positive. "There is definitely a positive future for SA manufacturing. Centurion Systems is blessed with people possessing diverse skills and talents and we also invest considerably in training, so every employee from the engineers who design the products through to the technicians who provide support are arguably the best in their fields. In addition, we firmly believe that our production facility is world-class; it is equipped with state-of-the-art robotics, design software and test jigs, enabling us to produce products of outstanding quality right here in our own backyard."
"There is definitely a future for manufacturing in South Africa with the rise of urbanisation, an emerging middle class and the fact that a large portion of the manufacturing process is automated," adds East. "There are concerning factors associated with manufacturing in South Africa, and those cannot be discounted. One must always ensure your risk is mitigated. But in the current format that exists, there is a potentially bright future for South African manufacturers. At this stage there is no significant driver to migrate offshore from cost or ability point of view."
Always a strong proponent of South Africa and local manufacturing, iPulse for the first time finds itself with a cautious perspective on the future of manufacturing in the country. From unions that have too much power, to wage demands that cripple smaller manufacturers and the loss of income from strikes that seem to be increasingly frequent and longer in duration, Chalmers says the cost advantage of a weaker currency is eroding. If the country is to grow its manufacturing sector across the board, something will need to be done.